I'm a big believer in letting art be open-ended for children. Meaning, there is no "right way" to make art. While working toward a certain end-product can be fun and have value (following directions, staying in a theme, etc.), I also think that children should be allowed to make art for art's sake.
One way to let children make art freely, is to provide them with a variety of materials and let them go. My favorite way to do this is with a "Collage Box". A Collage Box is basically a box with a variety of materials for children to make collages with.
It's super simple to make! Chances are, you've got everything you need already! Go raid your craft cabinet or your scrapbooking stuff that might be collecting dust...ahem :)
Materials:
Plastic Shoebox (or any other container you prefer)
Scraps of all kinds (Paper, Fabric, Ribbon, etc)
Anything else you can think of!
Glue
Scissors 
Directions:
Place it all in a box. Let your children create using their imagination!
Some things in our personal Collage Box:
The beauty of the Collage Box is that you can add to it. It constantly changes!
One of the ways that got Jonah (4 years) super excited about using the Collage Box is by having him make some patterned paper with me to place in the box. We pretended that we were Eric Carle and had a Pretty Paper Factory. (
More details about the Pretty Paper Factory can be seen on my blog.
)
Once I hooked his interest, I gave him the glue and scissors and said, "Create!" His
Chicka Chicka Boom Boom
tree is below.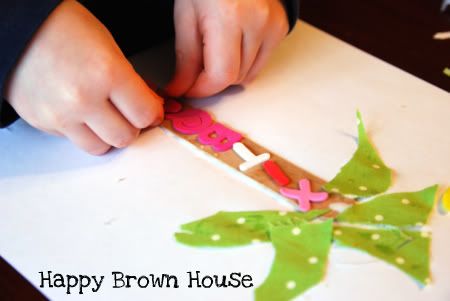 So tell me, what other things would you place in your collage box?