Goodnight, Goodnight Construction Site
Book Summary: As the sun sets behind the big construction site, all the hardworking trucks get ready to say goodnight. One by one, Crane Truck, Cement Mixer, Dump Truck, Bulldozer, and Excavator finish their work and lie down to rest—so they'll be ready for another day of rough and tough construction play! This book has irresistible artwork and sweet, rhyming text.
Language & Sensory
Build-a-Word:
This activity has lots of different variations depending on the level of your tot. For some, it could simply be that they "build" their own name or the alphabet. For others, they might "build" sight words or word families. You know your tot best, adapt this activity appropriately for them.
For this activity you will need:
Sensory bin of your choice (We used our rainbow rice because it was too cold to go outside to the sandbox.)
Letters of your choice (We used letter tiles, but you could use magnet letters, scrabble letters, foam letters, etc.)
Words/Names to spell (These could be mommy-made or use word cards.)
Small bulldozer, dump truck, or other construction vehicle
Mommy-prep:
Hide the letters your tot will need to spell the words you have chosen in the sensory bin.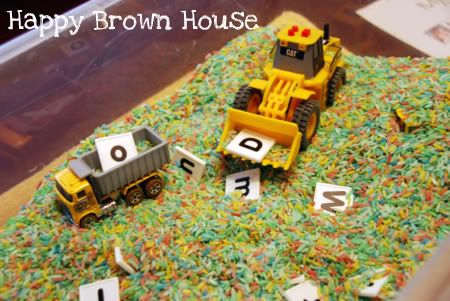 Play Time:
Allow your tot to play in the sensory bin. As they find a letter, they can place it on the word cards.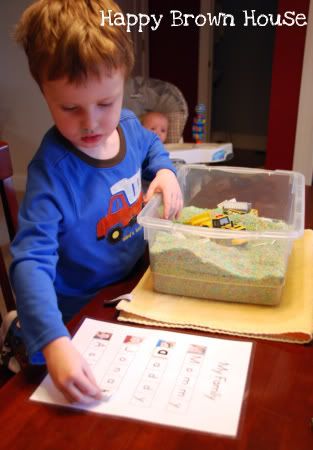 Eventually, they will "build" a word. In our case, we built the names of family members on a letter tile page I made on the computer.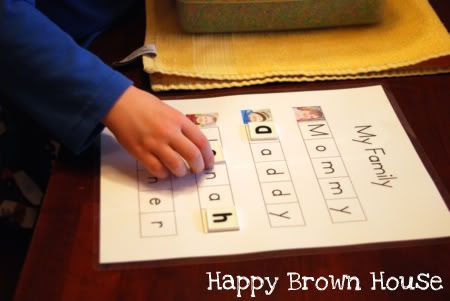 Other Books We Read & Recommend: