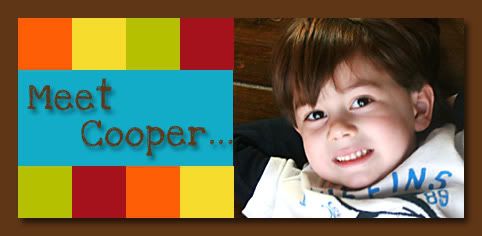 Cooper is 3 1/2 years old, he loves birthday parties, playing with his friends, art and most of all he loves sharks! He has a a little sister that just began crawling-which he's tolerating pretty well! He's very easy-going, independent, excited and talkative. He's obsessed with sea animals, mainly sharks. He knows more obscure facts that you would ever imagine-i.e. mama sharks leave their pups at birth. He's a great big brother who is always watching out for his sister!
His (and Mommy's) Top 10 Learning Toys:
Little Leaps Learning System
Melissa & Doug Puzzles
LeapFrog Fridge Phonics
Play Doh
Silly songs we make up like our phone number rap, etc.
Magnetic Magic Numbers book
Marble Madness building set
His Favorite DVDs:
Shark Tale
Word World
Anything National Geographic
His Favorite Books:
Anything and everything with sharks
Lucky Day
Children's Bible
You can visit Cooper's Mommy's awesome photography website here.
Do you want your tot to be featured one week? Go here to read more details!